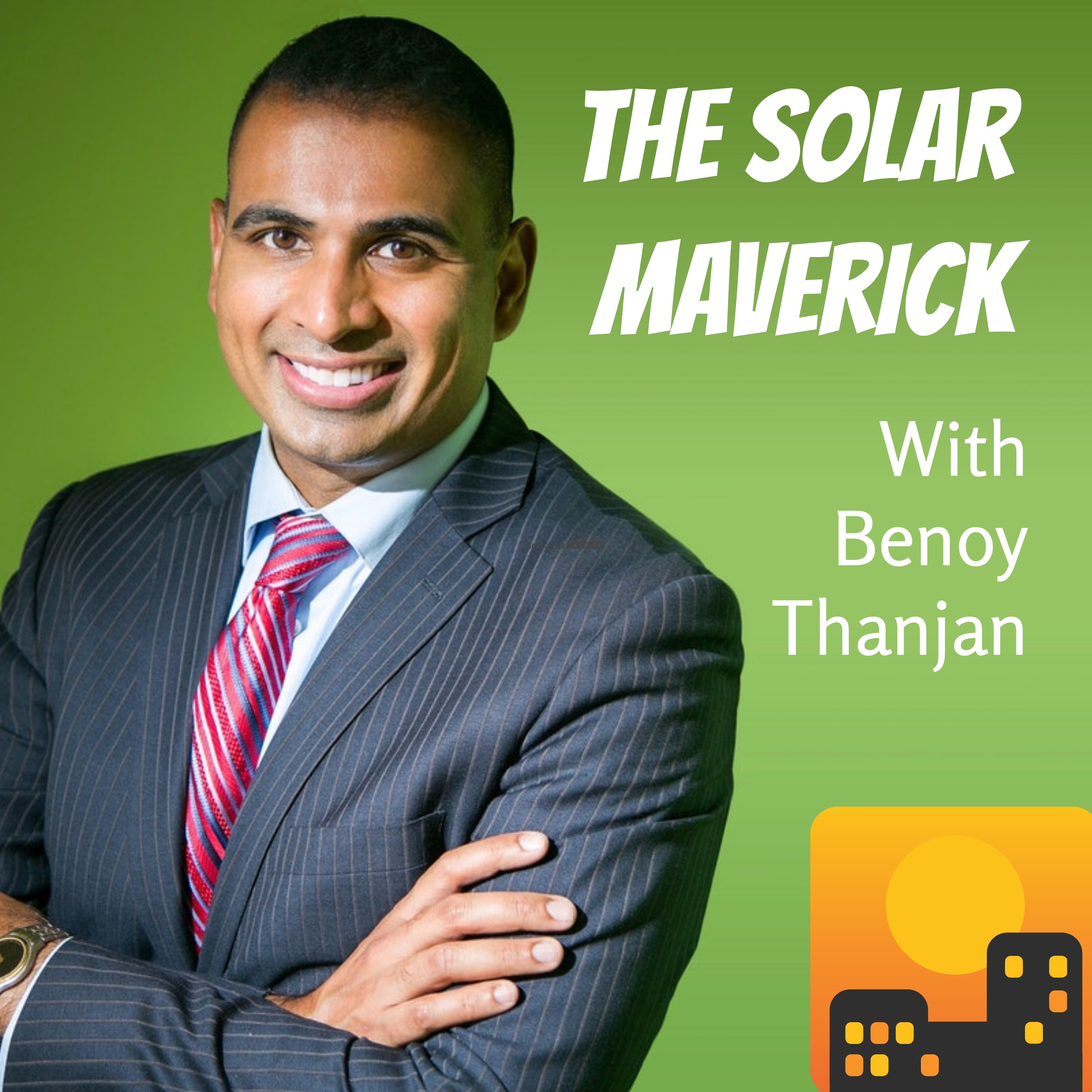 About our Guest:
Benoy Thanjan
Benoy Thanjan is the Founder and CEO of Reneu Energy and he is also an advisor for several solar startup companies. Reneu Energy is a premier international solar energy consulting firm and developer and the company focuses on developing commercial and industrial solar and utility scale solar plus storage projects. The company also sources financing for solar projects and hedges energy and environmental commodities. Reneu Energy has brokered $27 million in environmental commodities transactions.
Benoy received his first experience in Finance as an intern at D.E. Shaw & Co., which is a global investment firm with 37 billion dollars in investment capital. Before founding Reneu Energy, he was the SREC Trader in the Project Finance Group for SolarCity which merged with Tesla in 2016. He originated SREC trades with buyers and co-developed their SREC monetization and hedging strategy with the senior management of SolarCity to move into the east coast markets. Benoy also worked at Vanguard Energy Partners, Ridgewood Renewable Power, and Deloitte & Touche.
Jim Spano
Founder and Managing Director of Spano Partners, Jim Spano retired from his own financial planning firm and has since spent over 30 years in the Real Estate and Solar space. Using his lengthy experience, he was able to recover from the negative effects of the real estate market crash by paving the way for solar developments. From Vice-President of the Mid-Atlantic Solar Energy Industries Association, a participant of the International Battery and Energy Storage Alliance, and the creator of Spano Partners and Radiant REIT, Jim is an accomplished entrepreneur and industry influencer.
Episode Summary
Benoy and Jim discuss how utility scale and community solar are leading changes in the solar industry, in addition to the unprecedented shift in the cost of solar finance, as hard costs in building solar have little room to decrease.  From policy involvement to networking, Jim shares invaluable insights into the solar industry, a successful career as an entrepreneur, and the incredible benefits and importance of philanthropic work.
Insight from this episode:
How to use your previous experience to hone your entrepreneurial skills.

Strategies for developing a successful solar development company.

How networking can differentiate you in your industry.

Strategies to not only promote your industry but also add more value to it.

Ways to make solar energy more affordable for those with lower incomes.

Why community solar power is becoming the latest trend in the solar industry.

Why understanding policy can create value in your business.

Ways to decrease hard and soft solar energy costs.

Why philanthropy is one area of business you don't want to forget.
Quotes from the show:
In regards to the lack of access to solar options due to cost: "That was a huge need in the market that's not there, obviously, lowering the cost of financing. We find it (financing) is one of the highest expenses."

Benoy Thanjan, Episode #13.
"We are now where we know that the hard costs cannot continue to be reduced so now we are looking at ways to reduce soft costs, and that's the direction that the industry should be going."

Jim Spano, Episode #13.

"The key to successful solar development is understanding how the impact that the manner in which the project is developed, is viewed from a lender's perspective."

Jim Spano, Episode #13.

"Having as much at the highest incentive levels that you can, when you develop a project, means that you've added more value into that project. That means the investor and yourself will do better and have a far more likelihood of achieving the financial goals that the investment was based upon."

Jim Spano, Episode #13.
"

I think a lot of people look at things from (only) one perspective, but there are many people that are affected by this decision and there are a lot of variables that are changing within solar energy, that will impact costs to develop and build these projects."

Benoy Thanjan, Episode #13.
"That's why there's so much debate within the industry. You have different stakeholders with conflicting interests."

Jim Spano, Episode #13.
"One of the fastest growing sectors of solar is community solar."

Benoy Thanjan, Episode #13.

"We have to open these markets for lower income people."

Jim Spano, Episode #13.

"I think the most successful wealthy business people come to a point in their life that they realize that true happiness doesn't come from self-gratification and having the biggest or fastest car, or the biggest home and all this nonsense. It really comes from putting a smile on someone's face."

Jim Spano, Episode #13.

"I think the true key to happiness in this life...what really satisfies us...is knowing that we made someone else's life better, easier."

Jim Spano, Episode #13.

"The most successful people actually fail the most, learn from that experience and then adapt."

Benoy Thanjan, Episode #13.

"Some of your best experiences and education comes from your failures; although I'd suggest you try to learn from other people's failures first if you can!"

Jim Spano, Episode #13.
Stay Connected:
Benoy Thanjan
info@reneuenergy.com
Jim Spano