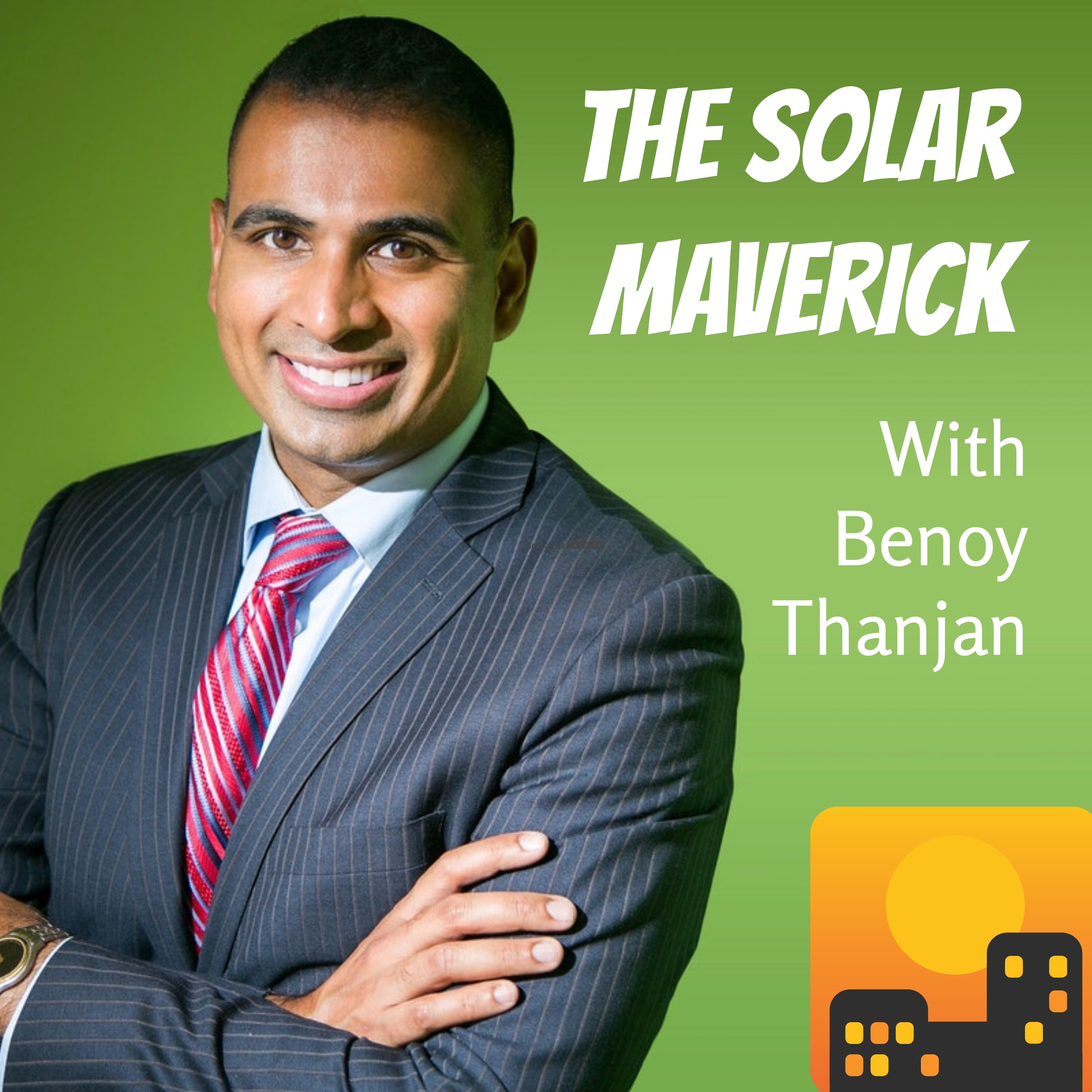 About our Guest:
Benoy Thanjan
Benoy Thanjan is the Founder and CEO of Reneu Energy and he is also an advisor for several solar startup companies. Reneu Energy is a premier international solar energy consulting firm and developer and the company focuses on developing commercial and industrial solar and utility scale solar plus storage projects. The company also sources financing for solar projects and hedges energy and environmental commodities. Reneu Energy has brokered $27 million in environmental commodities transactions.
Benoy received his first experience in Finance as an intern at D.E. Shaw & Co., which is a global investment firm with 37 billion dollars in investment capital. Before founding Reneu Energy, he was the SREC Trader in the Project Finance Group for SolarCity which merged with Tesla in 2016. He originated SREC trades with buyers and co-developed their SREC monetization and hedging strategy with the senior management of SolarCity to move into the east coast markets. Benoy also worked at Vanguard Energy Partners, Ridgewood Renewable Power, and Deloitte & Touche.
Thom Byrne
Thom Byrne is the Founder and CEO of Clean Capital; a financial technology company that makes it easy to invest in clean energy. Clean Capital has built a proprietary technology platform that identifies, screens, and manages clean energy projects enabling project owners an opportunity to exit their portfolios while providing accredited investors, including institutional investors, family offices, and investment funds, unique access to the clean energy investment market.
Thom received his start in environmental projects with Waterkeeper Alliance, where he helped launch local environmental organizations. After graduating from Berkeley Law school, he received extensive experience in the renewable energy finance arena through the law firms, Chadbourne and Parke, and then Akin Gump Strauss Hauer and Feld. Using his experience, Thom dove deeper into renewable energy asset with True Green Capital, before founding Clean Capital.
Episode Summary
Thom Byrne shares how as an entrepreneur, he addressed calculated risks to create Clean Capital, a company now providing investment opportunities in the tens of millions of dollars for solar energy. As opposed to smaller investments in the hundreds of thousands of dollars, what was once just a vision, is now injecting tremendous amounts of capital into the solar energy market not just domestically, but internationally as well.  
Insight from this episode:
How increasing larger institutional capital is vital for growing the renewable energy space.

How technology plays a key role in efficient investments.

What to look for in a potential market for investment.

Strategies for finding solutions to getting capital into new markets.

What macro drivers are affecting the Solar market today.

How to determine if being an entrepreneur is right for you and if your idea should go to market.
Quotes from the show:
"We always wanted to be mission oriented."

Thom Byrne, Episode 14
In regards to the renewable energy market: "Yes you can make money doing it, but it's an important challenge to be trying to solve."

Thom Byrne, Episode 14
In regards to being an entrepreneur: "Life's too short and the risk you perceive is not as big a risk as it really is. It's more fearful when you look out at the risk than when you're actually living in it."

Thom Byrne, Episode 14
In regards to being an entrepreneur: "There is a risk tolerance that you have to find acceptable. I think most people don't find it acceptable and they don't get into entrepreneurship but I would encourage people to evaluate the risk in the grand scheme of things and if you do that, you may find that it's much more tolerable."

Thom Byrne, Episode 14
In regards to being an entrepreneur: "It's better to try than to have regret."

Benoy Thanjan, Episode 14
"If you have the appetite to do it, to be an entrepreneur, you have to do it. That bug is not going to go away and you don't want to wake up with grandchildren and just a story about something you were going to do, rather than having actually tried to do it."

Thom Byrne, Episode 14
"Everyone is talking about storage and how in the market, tariffs and costs continue to go down."

Benoy Thanjan, Episode 14
"

A statistic the World Economic Forum put out, is that .5% of any institutional capital being put out is for clean energy."

Thom Byrne, Episode 14
Resources Mentioned:
Stay Connected:
Benoy Thanjan
info@reneuenergy.com
Thom Byrne