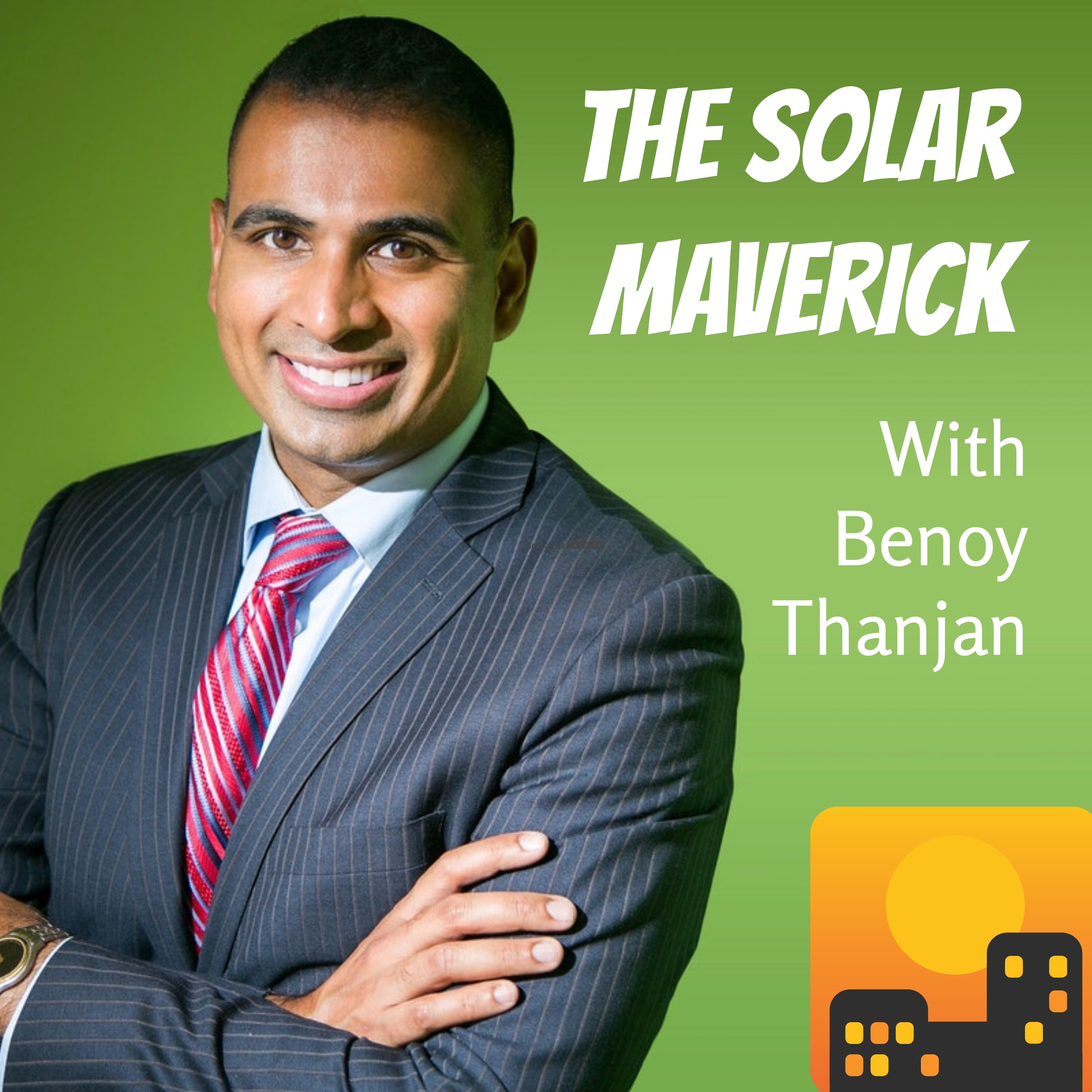 About our Guest:
Benoy Thanjan
Benoy Thanjan is the Founder and CEO of Reneu Energy and he is also an advisor for several solar startup companies. Reneu Energy is a premier international solar energy consulting firm and developer and the company focuses on developing commercial and industrial solar and utility scale solar plus storage projects. The company also sources financing for solar projects and hedges energy and environmental commodities. Reneu Energy has brokered $27 million in environmental commodities transactions.
Benoy received his first experience in Finance as an intern at D.E. Shaw & Co., which is a global investment firm with 37 billion dollars in investment capital. Before founding Reneu Energy, he was the SREC Trader in the Project Finance Group for SolarCity which merged with Tesla in 2016. He originated SREC trades with buyers and co-developed their SREC monetization and hedging strategy with the senior management of SolarCity to move into the east coast markets. Benoy also worked at Vanguard Energy Partners, Ridgewood Renewable Power, and Deloitte & Touche.
Li Wang
A life-long journalist and communications professional, Li Wang was hooked on the news as an intern at the Philadelphia Daily News during the summer of the O.J. trial. He has been a business reporter, arts editor and film critic. He has shifted his focus to digital marketing and creative services. His company, MJ Wang Media, develops brand messaging and identity through website design and content marketing.
Episode Summary
In light of the New Year, Li and Benoy discuss the effects of proper goal setting in your personal life as well as in your business. In the solar market, aggressive goal setting is creating foundations for high levels of growth, specifically in community solar and solar plus storage incentives. From his own travels to Southeast Asia and South America, Benoy shares key tips for cultivating relationships, maximizing value and realizing opportunities locally and abroad.
Insight from this episode:
How to cultivate new business relationships

Strategies for balancing your time as a small business owner

How to connect to potential clients and build meaningful relationships

How to bring value to your clients

Strategies for growing international markets

Strategies for effective goal setting

Methods for increasing community solar
Quotes from the show:
"Business in the US and Asia are totally different; even south america. People want to really get to know you before there is any discussion about business, whereas in the U.S. it's very upfront with what they can offer and what value they can offer you."

Benoy Thanjan, Episode #16.

"People are people at the end of the day, and they prefer to work with people they like and trust."

Benoy Thanjan, Episode #16.

"Community solar is one of the fastest growing segments in solar in the US."

Benoy Thanjan, Episode #16.
"The great thing about community solar is it allows people who can't get solar, due to, let's say their house has shading issues, the roof is not good,they don't have the capital expenditures, if they live in an apartment or have low to moderate income, they are able to now purchase solar....It gives everyone the ability to have solar"

Benoy Thanjan, Episode #16.
"California has always been ahead of the curve and trying to incentivize it (solar)."

Benoy Thanjan, Episode #16.
In regards to California solar goals;

"

Part of being aggressive is that even if they don't reach complete fulfillment of their goals, they'll have gained a lot just by setting those targets."

Li Wang, Episode #16.
"It's all about setting high goals. We talk about this in our own life and in entrepreneurship; everyone sets too low goals and we should all come up with higher goals. I know I'm trying to push myself to do bigger and better things. it might sound unrealistic but you never know you might achieve it but at least you'll be at a much higher place than if you didn't have those goals in place."

Benoy Thanjan, Episode #16.
"

I feel like with a little bit of help, and without much effort tor outsourcing, business owners can really improve their market."

Li Wang, Episode #16.
"2019 is going to be a great year for solar."

Benoy Thanjan, Episode #16.
"'I'd rather see you do one or a few things very well, than spread yourself too thin, because that's very difficult for a small business."

Li Wang, Episode #16.
"If you're not truly listening and asking good questions, how can you really add the value they (your customer) need?"

Benoy Thanjan, Episode #16.
"The power of saying no to things - that sometimes is hard to do when starting up your business but learning to say no to the wrong opportunities will gain you more time and gain you more business over time."

Li Wang, Episode #16.
Stay Connected:
Benoy Thanjan
info@reneuenergy.com
Li Wang:
Instagram: @liwang22
li@reneuenergy.com