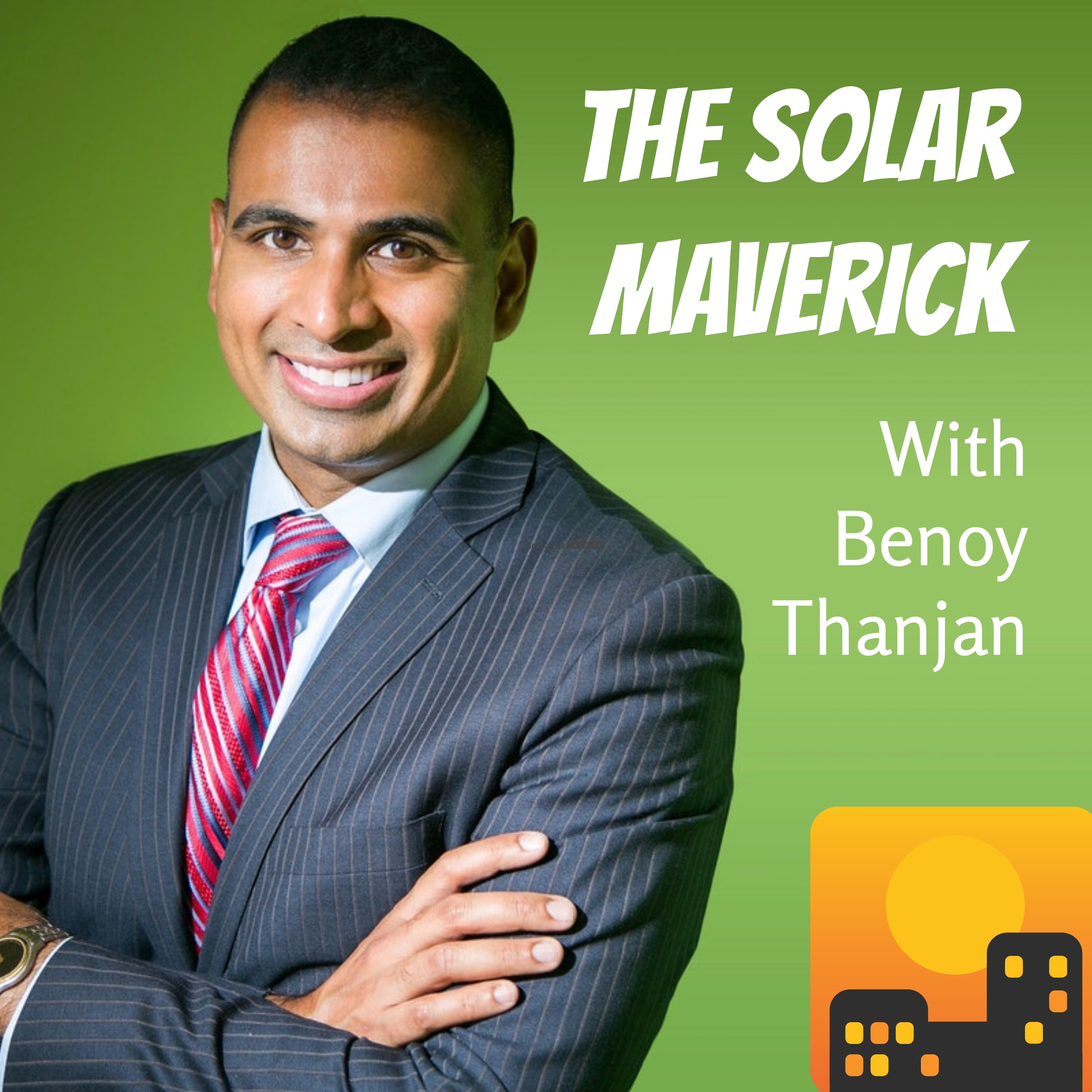 About our Guest:
Benoy Thanjan
Benoy Thanjan is the Founder and CEO of Reneu Energy and he is also an advisor for several solar startup companies. Reneu Energy is a premier international solar energy consulting firm and developer and the company focuses on developing commercial and industrial solar and utility-scale solar plus storage projects. The company also sources financing for solar projects and hedges energy and environmental commodities. Reneu Energy has brokered $27 million in environmental commodities transactions.
Benoy received his first experience in Finance as an intern at D.E. Shaw & Co., which is a global investment firm with 37 billion dollars in investment capital. Before founding Reneu Energy, he was the SREC Trader in the Project Finance Group for SolarCity which merged with Tesla in 2016. He originated SREC trades with buyers and co-developed their SREC monetization and hedging strategy with the senior management of SolarCity to move into the east coast markets. Benoy also worked at Vanguard Energy Partners, Ridgewood Renewable Power, and Deloitte & Touche.
Steve Schwerd
With over 25 years in Consulting Engineering, Mr. Schwerd has proven accomplishments in engineering design; project, client, staff and financial management; business development; engineering operations; and firm leadership. Experience ranges from creating small MEP (Mechanical, Electrical & Plumbing) departments to a Principal/Shareholder role as the engineering leader for a large multi-office, international full-service Architectural & Engineering firm. Upon establishing Schwerd Consulting, Steve now follows his passion for renewable energy and is fully committed to and active in the Solar industry.  He has worked with many of the leading solar companies and vendors across the country and is the driving force on his firm's projects and industry endeavors.
Episode Summary
Benoy and Steve discuss how to not only utilize the value of your experience but to also expand and grow on that to become an industry expert and successful entrepreneur. Through personal business experiences and involvement in renewable energy, Steve shares what helped him stay on the leading edge of solar, differentiate himself among his peers and develop a reputation as that of a valuable resource.
Insight from this episode:
How to become fully engaged in your industry and become an expert

The importance of being well-rounded in your industry

Why being truly passionate about your idea is key for the entrepreneur

How to plan properly for business ownership

The proper level of importance to assign your infrastructure

Strategies for gaining referrals

Why and when to say no to an opportunity

How to gauge if a solar project is good or not

How to stay on the cutting edge of your industry
Quotes from the show:
"Solar is good. It's still a growing industry even with the "solar-coasters" that have happened over the years"

Steve Schwerd, Episode #17.

"Experience is key."

Steve Schwerd, Episode #17.

"There might be a lot of companies that DO solar, but we KNOW solar."

Steve Schwerd, Episode #17.

In regards to how Steve approaches business: "You look at the whole picture which makes it unique."  

Benoy Thanjan, Episode #17.

"The timing was right and timing is often everything."

Steve Schwerd, Episode #17.

"As a business leader, you have to trust in yourself but also surround yourself with good people and relationships and build on those relationships."

Steve Schwerd, Episode #17.

"You really need to learn to say no and through your experience and confidence, trust that you can spot a bad project or a client that's not a fit for you; because the worst thing you can do is pursue something that seems like it has a great gross revenue potential and it's such a drag that you have a negative net income from it."

Steve Schwerd, Episode #17.

"Being transparent in general; people appreciate it."  

Benoy Thanjan, Episode #17.

"'Check your ego at the door". It's not about creating a complex engineering design if you don't have to; it's the benefit to the end-user, the owner of the system."

Steve Schwerd, Episode #17.

"Go where the trends are. Stay cutting edge but avoid the bleeding age."

Steve Schwerd, Episode #17.

"Understand that effective systems are more important than efficient systems."

Steve Schwerd, Episode #17.

"There's a big market now for in-service assets, so this will definitely be something that will be big in the future."

Benoy Thanjan, Episode #17.

In regards to project implementation: "It takes time from a technical perspective. Just because a program is approved based on policy, still there is a lot of work that needs to be done on the backend to make it happen."

Benoy Thanjan, Episode #17.
Stay Connected:
Benoy Thanjan
info@reneuenergy.com
Steve Schwerd:
sschwerd@schwerdconsulting.com