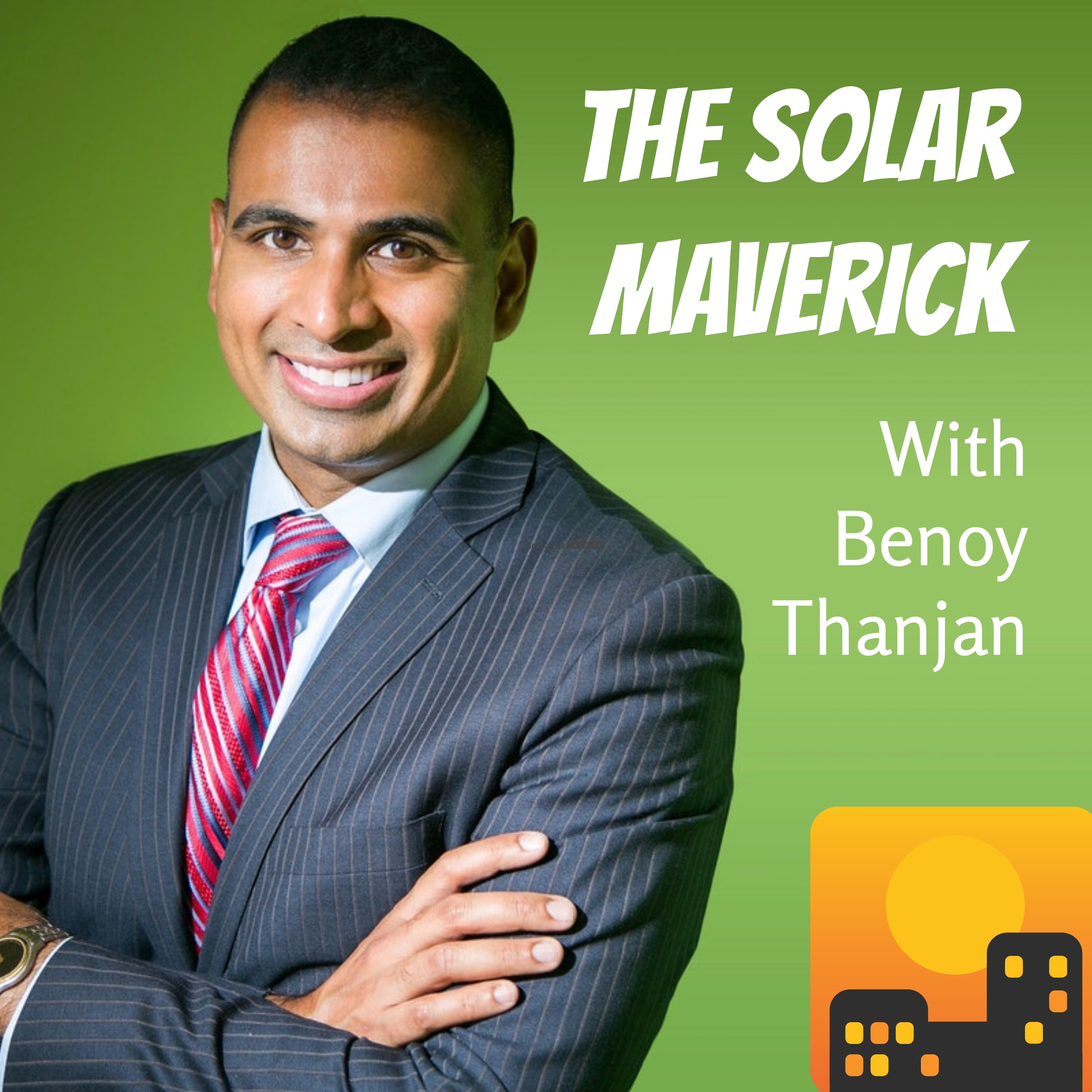 About our Guest:
Benoy Thanjan
Benoy Thanjan is the Founder and CEO of Reneu Energy and he is also an advisor for several solar startup companies. Reneu Energy is a premier international solar energy consulting firm and developer and the company focuses on developing commercial and industrial solar and utility scale solar plus storage projects. The company also sources financing for solar projects and hedges energy and environmental commodities. Reneu Energy has brokered $27 million in environmental commodities transactions.
Benoy received his first experience in Finance as an intern at D.E. Shaw & Co., which is a global investment firm with 37 billion dollars in investment capital. Before founding Reneu Energy, he was the SREC Trader in the Project Finance Group for SolarCity which merged with Tesla in 2016. He originated SREC trades with buyers and co-developed their SREC monetization and hedging strategy with the senior management of SolarCity to move into the east coast markets. Benoy also worked at Vanguard Energy Partners, Ridgewood Renewable Power, and Deloitte & Touche.
Li Wang
A life-long journalist and communications professional, Li Wang was hooked on the news as an intern at the Philadelphia Daily News during the summer of the O.J. trial. He has been a business reporter, arts editor and film critic. He has shifted his focus to digital marketing and creative services. His company, MJ Wang Media, develops brand messaging and identity through website design and content marketing.
Episode Summary
Li and Benoy discuss Benoy's recent trip to Colombia and attendance of the El Futuro Solar de Colombia conference. While reviewing the current changes of renewable energy in Colombia and what is driving those, they also review how cultural differences can impact international business. From an entrepreneurial perspective, they provide strategies on maximizing the time spent at industry conferences, how to gain recognition and become known as an expert in your industry.
Insight from this episode:
How foreign languages can benefit an entrepreneur.

How investment returns are driving American capital to international markets.

How cultural expectations can vary when working in international markets.

Strategies for maximizing your time at industry conferences.

Ways to become known as an expert in your field.

Strategies to improve your network.

How to improve your personal brand and recognition through consistent social media posts and website updates.
Quotes from the show:
In regards to the renewable energy market in Colombia: "It sounds like there is a lot of opportunity with some hard work to put in there, to gain some traction there."

Li Wang, Episode #15.
"Colombia is going to be a great market."

Benoy Thanjan, Episode #15.
It's never easy and especially in a new market that nothing has been done yet, so it's really about coming up with creative solutions."

Benoy Thanjan, Episode #15.

"Having a working knowledge of the language makes a huge difference because you are able to communicate with people directly instead of through a translator."

Benoy Thanjan, Episode #15.

In regards to industry conferences: "Obviously the content is very important...but it's really about getting in front of people, building that relationship which takes time. It's not just about picking up business cards and emailing."

Benoy Thanjan, Episode #15.

"The point being, the internet is wide open and you should claim your little piece of real estate on the internet if you haven't already."

Li Wang, Episode #15.

"If you can stand out a little bit in your personal brand, it's going to pay off usually, because you'll get noticed."

Li Wang, Episode #15.
Resources Mentioned:
Stay Connected:
Benoy Thanjan
info@reneuenergy.com
Li Wang:
Instagram: @liwang22