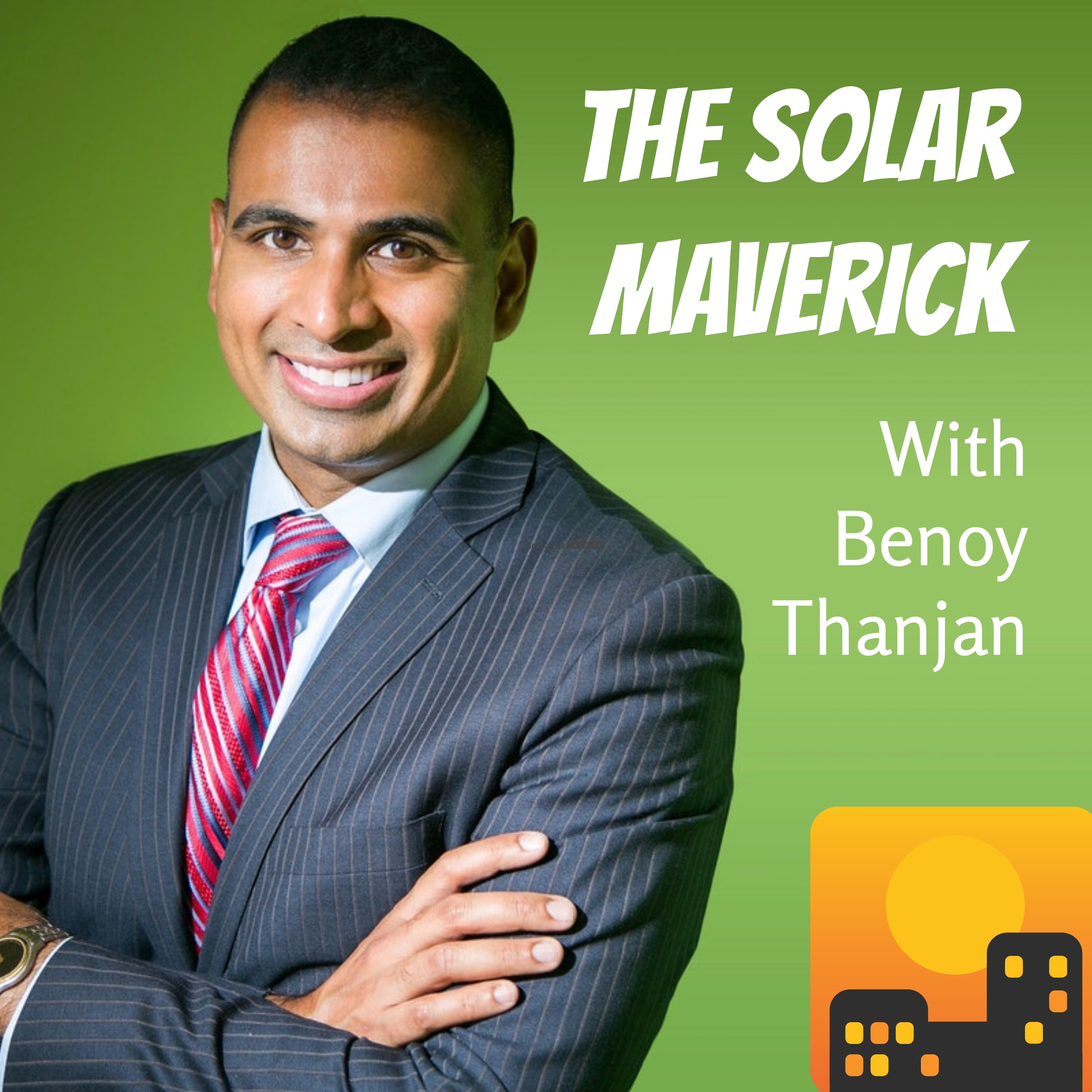 About our Guest:
Benoy Thanjan
Benoy Thanjan is the Founder and CEO of Reneu Energy and he is also an advisor for several solar startup companies. Reneu Energy is a premier international solar energy consulting firm and developer and the company focuses on developing commercial and industrial solar and utility scale solar plus storage projects. The company also sources financing for solar projects and hedges energy and environmental commodities. Reneu Energy has brokered $27 million in environmental commodities transactions.
Benoy received his first experience in Finance as an intern at D.E. Shaw & Co., which is a global investment firm with 37 billion dollars in investment capital. Before founding Reneu Energy, he was the SREC Trader in the Project Finance Group for SolarCity which merged with Tesla in 2016. He originated SREC trades with buyers and co-developed their SREC monetization and hedging strategy with the senior management of SolarCity to move into the east coast markets. Benoy also worked at Vanguard Energy Partners, Ridgewood Renewable Power, and Deloitte & Touche.
Graham Smith
As the Founder and CEO of Open Energy Group, Graham Smith was able to combine his experience and passion for renewable energy and finance. Open Energy Group is the lending tree of renewable energy assets, providing easier access to capital markets. With over 5.5 years in business, they have become the marketplace and financial solution provider for the U.S. commercial energy sector, underwriting nearly $1 billion dollars.
Episode Summary
Graham shares with Benoy the lessons he learned as an Olympic athlete and how those lessons prepared himself for the hard work, persistence and patience to becoming a successful entrepreneur. This hard work, combined with his passion for renewable energy and experience in the financial world helped him successfully recognize and fill a need in the industry. Benoy and Graham discuss how other entrepreneurs can learn from that experience as well as how those interested in the solar market can benefit from not only the services Graham offers but how he is shaping the industry as a whole.
Insight from this episode:
How to access different financial solutions for the solar market

Reasons it's easier to fund builds greater than $1 million

Strategies for finding consumer and commercial choices for solar builds and financing

How current financial trends are affecting the solar industry

Strategies for surviving the first year in business

Why growing a business is not always a linear path

How passion can affect your success as an entrepreneur
Quotes from the show:
"The sector is still in it's infancy; there is no entrenched method (in regards to accessing solar and financial provisions). If you want a new roof you might just go to your bank and they will understand that, with solar there is still a lack of awareness"

Graham Smith, Episode #18.
In regards to financial transactions under $1million, "It can get expensive with the legal costs and outside legal counsel looking at the agreement."

Benoy Thanjan, Episode #18.
"There is no and shouldn't be one solution to allow solar and renewable energy to flourish at this lower complex level; there needs to be a proliferation - a choice - there needs to be consumer/commercial choices about the products  and that's what we aim to provide."

Graham Smith, Episode #18.
"I think a necessary trend that is needing to happen is simplifying the process."

Graham Smith, Episode #18.
"There is an appetite to look at the recycling of waste; producing both energy and products that can be reused into the cycle."

Graham Smith, Episode #18.

"In terms of our story, I think it's important for people to know, especially the entrepreneurs, that it hasn't been a straight path for Open Energy."

Graham Smith, Episode #18.

In regards to Open Energy Group: "You have made this so that it makes it easy and speeds up the whole process of investors analyzing different opportunities to finance projects."

Benoy Thanjan, Episode #18.

"We find ourselves almost like a translator, taking developer-speak and taking it to the bank so they can recognize it."

Graham Smith, Episode #18.

"We facilitate access to capital; to build, to own, or to sell these assets. What that allows is the best price capital to come in and ultimately that means more capital to come in (to the renewable energy market)."

Graham Smith, Episode #18.

"When you have the opportunity to make money from your passion - it is a great thing."

Graham Smith, Episode #18.

"There are a lot of European developers and investors aggressively developing in the United States because there is a lot of opportunity."

Benoy Thanjan, Episode #18.

In regards to becoming an entrepreneur: "You need a particular commitment, drive and self-belief. Because ultimately if you're starting something, its possibly because it hasn't been done before or done that way and your slants or ideas are different from others; so it requires that belief and persistence knowing that you can see forward enough past initial failure or initial non-acceptance that there will be.  The ways to sustain that are your enthusiasm and passion."

Graham Smith, Episode #18.

"Frankly I don't know any other way to success; it is only the product of extremely hard, committed work."

Graham Smith, Episode #18.
Stay Connected:
Benoy Thanjan
info@reneuenergy.com
Graham Smith
info@openenergygroup.com