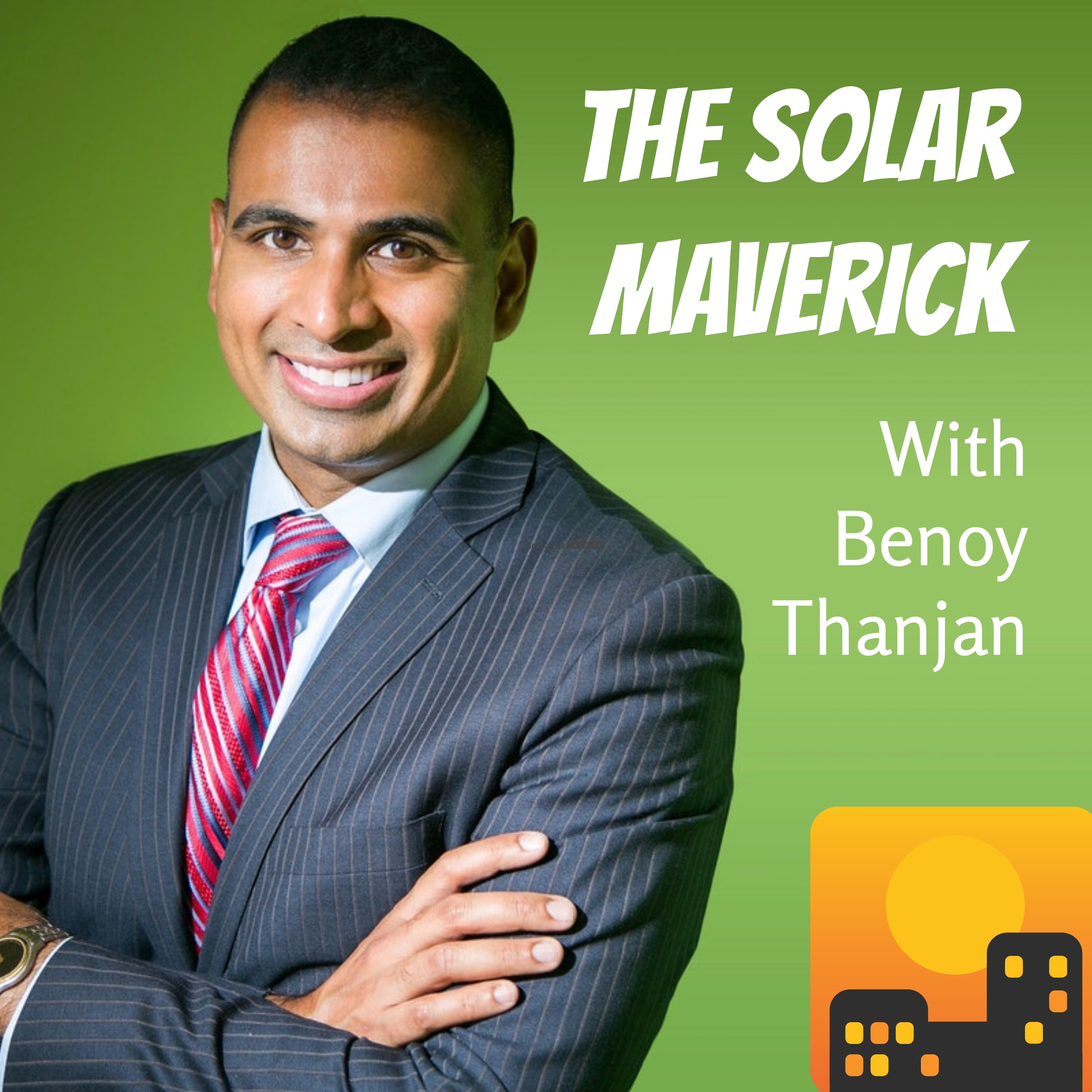 About our Guest:
Benoy Thanjan
Benoy Thanjan is the Founder and CEO of Reneu Energy and he is also an advisor for several solar startup companies. Reneu Energy is a premier international solar energy consulting firm and developer and the company focuses on developing commercial and industrial solar and utility-scale solar plus storage projects. The company also sources financing for solar projects and hedges energy and environmental commodities. Reneu Energy has brokered $27 million in environmental commodities transactions.
Benoy received his first experience in Finance as an intern at D.E. Shaw & Co., which is a global investment firm with 37 billion dollars in investment capital. Before founding Reneu Energy, he was the SREC Trader in the Project Finance Group for SolarCity which merged with Tesla in 2016. He originated SREC trades with buyers and co-developed their SREC monetization and hedging strategy with the senior management of SolarCity to move into the east coast markets. Benoy also worked at Vanguard Energy Partners, Ridgewood Renewable Power, and Deloitte & Touche.
Eric Dahnke
Eric Dahnke is the Founder and CEO of Power Market; utilizing his experience in the utility and software industries to provide solutions for community solar. With an undergraduate degree in Mechanical Engineering and a Ph.D. in Energy Management and Policy from Columbia University, he is always working towards improving the delivery of clean energy programs.
Episode Summary
Eric dissects and explains not only the need and benefits of customer acquisition, onboarding and management for community solar, but also how the process of customer billing is conducted. This crucial aspect of bringing financial structure to community solar is not only expanding the market but also taught him many key lessons in entrepreneurship that he shares with Benoy.
Insight from this episode:
Ways to use technology to decrease the cost of customer acquisition

The importance of focus as an entrepreneur

How commissions can affect the locals of community solar growth

The importance of the name and branding for a startup company

Strategies for financing and funding a new company

How to prepare for entrepreneurship
Quotes from the show:
In regards to financing terms for community solar: "We see a wide range but 3-5 years is the standard contract length, with fairly minimal exit fees."

Eric Dahnke, Episode #19.

"Billing in these markets has always been the strength of what we're doing. We consider ourselves a software company."

Eric Dahnke, Episode #19.

"I am happy to say that we have billed in excess of one million dollars in community solar transactions and we've never had a mistake."

Eric Dahnke, Episode #19.

In regards to realizing the need for Power Market: "This industry (the utility industry) needs the software architectures and techniques that we had in the financial services industry where the risk system is talking to the accounting system which is talking to the P&L system, to the settlement system and all of that works together and works well. ....I realized there ought to be an opportunity to build out some systems for this clean energy industry."

Eric Dahnke, Episode #19.

"...One of the other crucial things that I learned and had to be taught -which is part of the process of being an entrepreneur - is that you have to offer something very specific when you're starting a company."

Eric Dahnke, Episode #19.

"It's really focusing on one thing and being the expert on it, as opposed to doing multiple things."

Benoy Thanjan, Episode #19.

In regards to community solar trends: "Governments are starting to require a low-income component to it."

Benoy Thanjan, Episode #19.

"(a customer acquisition agent) can sell 5 individual apartment owners or go up into a much wealthier neighborhood and get one individual sale. The credit requirements and things that community solar was supposed to solve in terms of allowing low-income subscribers and participants to take advantage of that product have been thwarted a little bit by the fact that it's more lucrative for the customer acquisition agents to go after bigger, wealthier customers."

Eric Dahnke, Episode #19.

"It's been a struggle, let's be honest, but it has been pretty exciting. I've heard other entrepreneurs say it doesn't really feel like work when the challenge in front of you is as big as it is so there is an upside to it."

Eric Dahnke, Episode #19.

In regards to preparing for entrepreneurship: "The thing that makes a successful entrepreneur more than anything is just experience; experience, know-how, contacts, all of that. So the extent that you can put that together in your career as it exists before you step out will be a good way to go about it."

Eric Dahnke, Episode #19.
Stay Connected:
Benoy Thanjan
info@reneuenergy.com
Eric Dahnke
info@powermarket.io
https://www.linkedin.com/in/eric-dahnke-397b702/