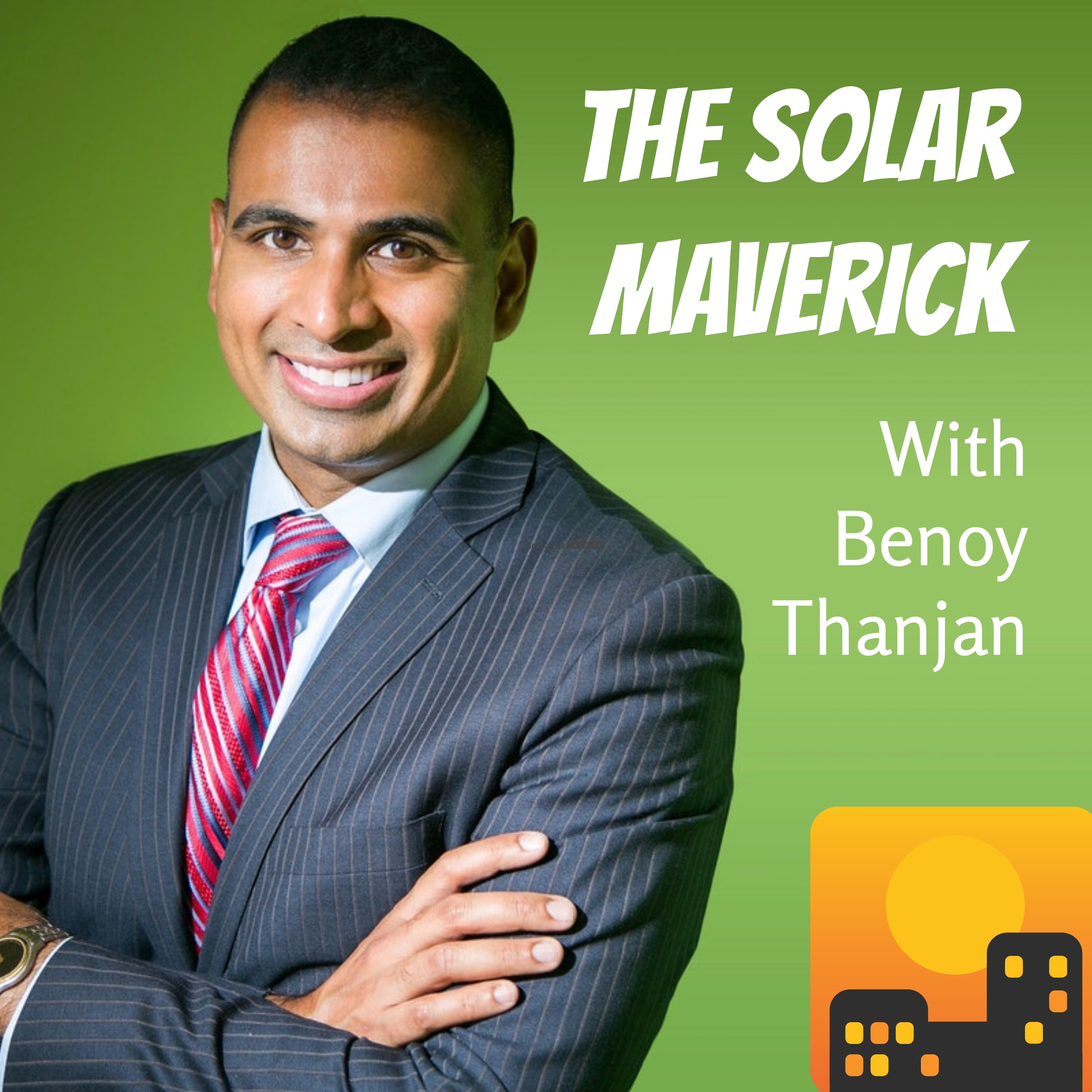 About our Guest:
Benoy Thanjan
Benoy Thanjan is the Founder and CEO of Reneu Energy and he is also an advisor for several solar startup companies. Reneu Energy is a premier international solar energy consulting firm and developer and the company focuses on developing commercial and industrial solar and utility scale solar plus storage projects. The company also sources financing for solar projects and hedges energy and environmental commodities. Reneu Energy has brokered $27 million in environmental commodities transactions.
Benoy received his first experience in Finance as an intern at D.E. Shaw & Co., which is a global investment firm with 37 billion dollars in investment capital. Before founding Reneu Energy, he was the SREC Trader in the Project Finance Group for SolarCity which merged with Tesla in 2016. He originated SREC trades with buyers and co-developed their SREC monetization and hedging strategy with the senior management of SolarCity to move into the east coast markets. Benoy also worked at Vanguard Energy Partners, Ridgewood Renewable Power, and Deloitte & Touche.
Nathan Jovanelly
Nathan Jovanelly is a thought leader with IGS Solar, a third party gas and electric provider in most deregulated markets. As an intrapreneur, Nate assisted with launching IGS Solar, offering services to both residential and commercial customers. Receiving a Chemical Engineering degree from the University of Delaware, Nathan has pivoted in his business experience to become a well-rounded expert in the industry.
Episode Summary
Nathan and Benoy talk at length regarding the natural gas market and the varying aspects to being a third party energy supplier such as customer acquisition costs and simplifying complex contracts, as well as current trends in the solar industry. In addition, Nathan shares key thoughts on being an entrepreneur and how to successfully find your place your desired market.
Insight from this episode:
How being an intrapreneur and entrepreneur differ

How natural gas affects the solar and electric markets

The benefits of on site distribution generation as opposed to providing off site solar

How customer acquisition costs vary by area of the industry

How to make customers more comfortable and understanding of solar

How simplifying a process adds high levels of value

How to determine what is bankable and financeable for your business

How to successfully build relationships in your market
Quotes from the show:
"Solar is something that people want, they can understand, it's very eloquent with no moving parts. You don't have to worry about all this heat recapture, vibration and noise or where to put it."

Nathan Jovanelly, Episode #20.

"It's very scalable (solar compared to CHP (combined Heat and Power). For the development of a CHP project, the complexity and time it takes vs solar that is a lot easier and you don't have to worry about hedging natural gas."

Benoy Thanjan, Episode #20.

"Natural gas has kept prices relatively low for a long time which basically impacts the electricity price because most generation now is through natural gas."

Benoy Thanjan, Episode #20.

In regards to bridging and growing in your career: "You really need to pivot in business."

Nathan Jovanelly, Episode #20.

"Being an intrapreneur is maybe less risk than an entrepreneur but still you have to wake up with that grind mentality."

Nathan Jovanelly, Episode #20.

"Being an entrepreneur; you're going to stub your toe and you have to learn from your mistakes."

Nathan Jovanelly, Episode #20.

"You always have to ask the value statement, 'What is the market missing and how can we fill that gap?'"

Nathan Jovanelly, Episode #20.

"I think solar plus storage is going to be a game changer; where you take intermittent power and now you're able to store it and use it at different times to support the grid."

Benoy Thanjan, Episode #20.

"I feel like in the battery space, scale is really going to matter."

Nathan Jovanelly, Episode #20.

As quoted from a friend, one of the most important things in business is being customer friendly; "It's got to be something your mom can read."

Nathan Jovanelly, Episode #20.

In regards to customer acquisition, "We haven't cracked the code on digital marketing yet."

Nathan Jovanelly, Episode #20.
Every project is not as cookie cutter as people probably think."

Nathan Jovanelly, Episode #20.
Stay Connected:
Benoy Thanjan
info@reneuenergy.com
Nathan Jovanelly
nathan.jovanelly@igs.com