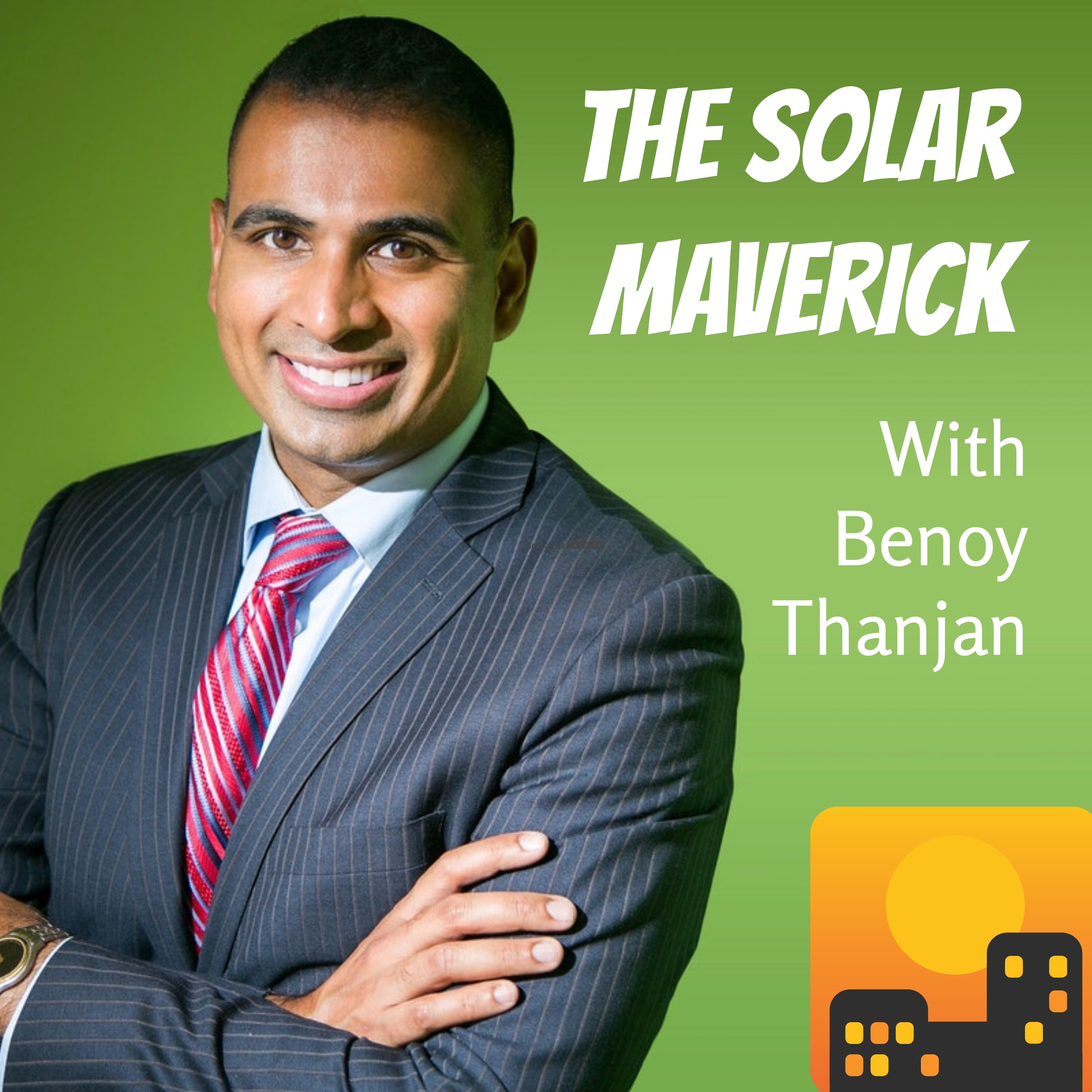 Episode Summary
In this episode of the Solar Maverick Podcast, Benoy talks with Steph Speirs who is the co-founder and CEO of Solstice.  Solstice connects businesses and households to local clean energy sources with guaranteed annual savings.  Steph speaks about a lot of interesting topics about their innovative customer acquisition strategies for community solar subscribers, how their Energy Score is better predictor of customers paying their energy bill compared to FICO, engaging the LMI community regarding community solar, and community solar trends.
Benoy Thanjan
Benoy Thanjan is the Founder and CEO of Reneu Energy, as well as an advisor for several solar startup companies. Reneu Energy is a premier international solar energy consulting firm and developer, and the company focuses on developing commercial and industrial solar, as well as utility-scale solar plus storage projects. The company also sources financing for solar projects and hedges both energy and environmental commodities. 
Benoy received his first experience in Finance as an intern at D.E. Shaw & Co., which is a global investment firm with 37 billion dollars in investment capital. Before founding Reneu Energy, he was the SREC Trader in the Project Finance Group for SolarCity, which merged with Tesla in 2016. He originated SREC trades with buyers and co-developed their SREC monetization and hedging strategy with the senior management of SolarCity, to move into the east coast markets. Benoy also worked at Vanguard Energy Partners, Ridgewood Renewable Power, and Deloitte & Touche.
Steph Speirs
She co-founded and runs Solstice, an enterprise dedicated to radically expanding the number of American households that can take advantage of clean energy using community-shared solar farms. She was selected as an Inc Magazine Female Founder 100, Echoing Green Climate Fellow, a Kia Revisionary, a Renewable Energy World 40 Under 40 in Solar, Elle Magazine/INCO's US Impact Entrepreneur of the Year, a Grist 50 Fixer, a Sierra Club Face of Clean Energy, a GLG Social Impact Fellow, a Cordes Fellow, a Global Good Fund Fellow, and an Acumen Global Fellow. Solstice was accelerated by Techstars Boston, MIT, Princeton, MassChallenge, Halcyon Incubator, and Cleantech Open. 


She previously led sales and marketing innovation initiatives in India at d.light, a solar products company powering areas without reliable electricity; spearheaded Acumen's renewable energy impact investment strategy in Pakistan; developed Middle East policy as the youngest policy director at the White House National Security Council; and field organized in seven states for the first Obama presidential campaign. 


She serves on the Board of Directors of the Sierra Club Foundation and on the Advisory Board of the Yale Center for Environmental Law and Policy. She holds a B.A. from Yale, a Master in Public Affairs (MPA) with distinction from Princeton, and an MBA from MIT with a Certificate in Entrepreneurship and Innovation. At MIT, she was a recipient of the Paul and Daisy Soros Fellowship for New Americans, the Legatum Fellowship, the Dean's Fellowship, and the Public Service Fellowship. She originally hails from Hawaii and was raised by a single immigrant mother.
Stay Connected:
Benoy Thanjan
Email: info@reneuenergy.com 
LinkedIn: Benoy Thanjan
Website: https://www.reneuenergy.com
Steph Speirs
Website:  https://solstice.us
Linkedin:  https://www.linkedin.com/in/skyspeirs/
Subscribe to our podcast + download each episode on iTunes,Podbean, and youtube.
 This episode was produced and managed by  Podcast Laundry (www.podcastlaundry.com)